Hi all! I'm linking up with Brandi at
A Peach for the Teach
to make my New Year's Resolutions.

I have never been one to either make New Year's resolutions or strongly attempt to stick with any I have made. However, this year, with the help of my friend Brandi, I will do my best to try to stick with them.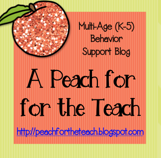 First, it is my goal to become a much healthier person in 2014. I will be turning 60 near the end of January, and I've been thinking I need to up my exercise and get back to eating mostly healthy foods.
We live near a wonderful exercise/swim club, and when you and your spouse are both 60 or older, you can join at a very discounted price. We plan to join as soon as my birthday arrives. Also, I've been looking into the Paleo diet. I have basically eaten this way in the past, and I always feel so much better when I do. Has anyone else done this diet? I found a website
http://www.paleoplan.com
that really appears to make it easier. Anyway, I know if I'm feeling good from exercising and eating healthy, I will have the energy to spend more time with friends, which is uplifting and mentally healthy. A win-win situation!
Feeling healthy will hopefully help me to get motivated again and back on track with setting a work schedule. I have been in a slump, and I find myself spending the majority of my time on social media and the forums (work-related, but still too much!). I now need to focus on creating high-quality teaching resources.
Although I am no longer in the classroom, I still keep in contact with my former co-workers. Also, I love my TpT job and all of the new teacher friends I have met! This has allowed me to still feel connected with the classroom and, as I said before, I plan to continue creating high-quality resources that will help children in classrooms everywhere.
As for my blog, I plan to only blog when I have time to develop great content. My major focus will be on creating those high-quality resources I have been talking about! ;)
Finally, I think balance is the key to a happy life! It is my goal to make a rough schedule (to keep me focused) for my work and personal life, allowing more time to discover new things and places with friends.

What New Year's Resolutions do you have in mind? If you would like to link up your resolutions with Brandi, click on her
A Peach for the Teach
image at the top of the page to take you to her blog.
Have a Happy and Healthy New Year!